Rule-X Generated More Than 4.5% Alpha During Diwali to New Year 2014
During Diwali festival we had recommended
27 stocks
for Muhurat Trading to the visitors on our website. This list was also published on our
Facebook page
. We reviewed the collective performance of the recommended stocks and found that they were up by 4.5% by New Year's eve. During the same period (2 months) market wide average index NIFTY went down by 0.05%.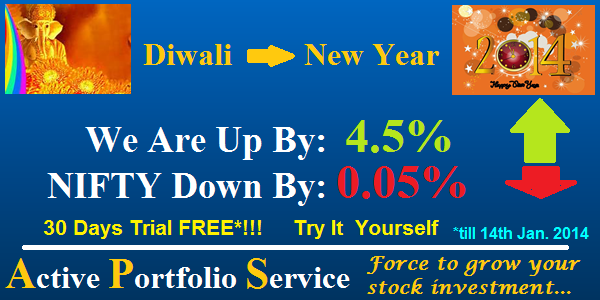 Muhurat Trading Stocks Collective Growth vs. NIFTY
Above analysis was based on the assumption that the investor had invested equal amount of money in all 27 stocks. In our analysis we found around 12 stocks (out of 27) made minor loss which was covered by significant profit earned by the remaining 15 stocks. Once again it is proved that the key to success is diversity of the portfolio and money management.
We analyzed the data further on daily basis and found that the collective portfolio not only showed profit at the end of 2 months but it performed better than NIFTY throughout that period.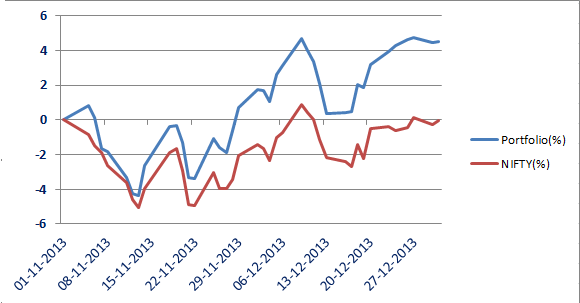 Muhurat Trading Stocks Portfolio vs. NIFTY Percentage Gain/Loss
Details:
| Stock ID | Stock | Rule-X Trigger Date | Price on 1st Nov 2013 | SAFE Group | Price On 31st Dec 2013 | % Gain/Loss | Value of investment (Base Rs.100000) |
| --- | --- | --- | --- | --- | --- | --- | --- |
| 500002 | ABB LTD. | 28-10-13 | 628.25 | G | 693.15 | 10.33 | 110330.28 |
| 500093 | CROMPTON GREAVES LTD., | 31-10-13 | 109.70 | G | 128.60 | 17.23 | 117228.81 |
| 500103 | BHARAT HEAVY ELECTRICALS LTD., | 29-10-13 | 143.45 | G | 176.20 | 22.83 | 122830.25 |
| 500116 | IDBI BANK LTD | 29-10-13 | 69.30 | A | 66.50 | -4.04 | 95959.60 |
| 500188 | HINDUSTAN ZINC LTD., | 28-10-13 | 137.20 | E | 133.00 | -3.06 | 96938.78 |
| 500257 | LUPIN LTD | 30-10-13 | 882.25 | F | 906.75 | 2.78 | 102776.99 |
| 500359 | RANBAXY LABORATORIES LTD., | 29-10-13 | 403.10 | F | 452.60 | 12.28 | 112279.83 |
| 500425 | AMBUJA CEMENTS LTD. | 31-10-13 | 188.05 | G | 182.50 | -2.95 | 97048.66 |
| 500470 | TATA STEEL LIMITED | 28-10-13 | 336.10 | E | 423.05 | 25.87 | 125870.28 |
| 500493 | BHARAT FORGE LTD | 31-10-13 | 295.10 | E | 327.55 | 11.00 | 110996.27 |
| 500510 | LARSEN & TOUBRO LIMITED | 29-10-13 | 981.80 | G | 1070.65 | 9.05 | 109049.70 |
| 512599 | ADANI ENTERPRISES LTD. | 30-10-13 | 204.15 | G | 262.30 | 28.48 | 128483.96 |
| 524715 | SUN PHARMACEUTICAL INDUSTRIES LTD. | 29-10-13 | 605.10 | F | 567.50 | -6.21 | 93786.15 |
| 532134 | BANK OF BARODA | 31-10-13 | 671.65 | A | 645.30 | -3.92 | 96076.83 |
| 532149 | BANK OF INDIA | 31-10-13 | 221.50 | A | 239.00 | 7.90 | 107900.68 |
| 532174 | ICICI BANK LTD. | 31-10-13 | 1133.40 | A | 1098 | -3.12 | 96876.65 |
| 532281 | HCL TECHNOLOGIES LTD | 31-10-13 | 1099.70 | D | 1265.70 | 15.10 | 115095.03 |
| 532301 | TATA COFFEE LTD | 30-10-13 | 1122.85 | C | 978.95 | -12.82 | 87184.40 |
| 532478 | UNITED BREWERIES LTD. | 30-10-13 | 892.10 | C | 772.70 | -13.38 | 86615.85 |
| 532500 | MARUTI SUZUKI INDIA LTD. | 31-10-13 | 1635.80 | E | 1762.00 | 7.71 | 107714.88 |
| 532540 | TATA CONSULTANCY SERVICES LTD. | 30-10-13 | 2097.15 | D | 2174.25 | 3.68 | 103676.42 |
| 532667 | SUZLON ENERGY LTD. | 30-10-13 | 9.84 | G | 10.35 | 5.18 | 105182.93 |
| 532720 | MAHINDRA & MAHINDRA FINANCIAL SERVICES LIMITED | 31-10-13 | 283.65 | A | 319.90 | 12.78 | 112779.83 |
| 532822 | IDEA CELLULAR LTD | 30-10-13 | 168.65 | G | 166.95 | -1.01 | 98992.00 |
| 532977 | BAJAJ AUTO LIMITED | 29-10-13 | 2124.25 | E | 1905.00 | -10.32 | 89678.71 |
| 533171 | UNITED BANK OF INDIA | 28-10-13 | 35.55 | A | 32.1 | -9.70 | 90295.36 |
| 533278 | COAL INDIA LIMITED | 29-10-13 | 292.45 | E | 290.00 | -0.84 | 99162.25 |
| | | | | | | Portfolio Value: | 2820811.36 |
| | | | | | | Gain: | 4.47% |
| | | | | | | | |
| | | | | | | NIFTY On 1st Nov. | 6307.20 |
| | | | | | | NIFTY on 31st Dec. | 6304.00 |
| | | | | | | Loss: | -0.05% |
Did you like this article? Please share it with your social network